Far too often I hear women say that they don't wear red lipstick because it doesn't suit them. There are so many different shades of red out there – some have more orange in them, some have more pink in them, and others have more purple or blue in them – and there is definitely one out there that will suit your skintone.
Catrice's latest limited edition range called Alluring Reds has a glamorous selection of red lipsticks, liquid lipsticks and nail polishes to choose from. So if you are someone who believes that red doesn't suit you, I encourage you to go to Dischem, Pick n Pay or Red Square (selected stores) and do some swatching with the testers on your hands of these new lipsticks and liquid lipsticks. I am sure you will find one that suits you.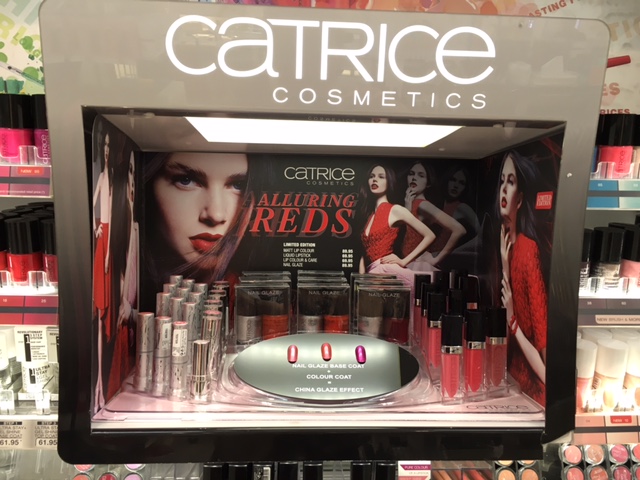 Catrice sent me some samples from this range to try out and I have done some swatching on my arm for you to see the different colours.
For those days when you just want a slight hint of colour on your lips, there is a Lip Care & Colour lip balm called Smooth Operator. It has a creamy texture and leaves a slight tint with shine on your lips. You can even wear this under your lipstick. The lip balm costs R69.95.
There are 3 lipsticks to choose from in the range: M-attraction, Strking M-attitude, and M-attempt To Conquest. The lipsticks have such gorgeous packaging to go with the glamorous red shades! The lipsticks are longwearing, have a matt finish, and are highly pigmented. The reds will look different on everyone's lips depending on the skintone you have. The lipsticks cost R89.95 each.
There are also 3 liquid lipsticks to choose from in the range: Moulin's Rouge, Brigitte Bordeaux and Marilyn Monrouge. When I feel like wearing a lip colour that is more glossy than a lipstick, I reach for these liquid lipsticks. They aren't sticky but do need to be reapplied during the day depending on how much you have had to eat or drink. They have great pigmented colours and will leave your lips looking ultra glossy. They cost R69.95 each.
I haven't tried the polishes yet but am intrigued by the sliver base coat. Used in combination, the two polishes turn into an innovative eye-catcher. The silver base coat appears with a unique porcelain shine, the red polish applied on top has a metallic, high-gloss effect. There are three sets of polishes to choose from: Object Of Desire, Art Of Seduction and Pleasure Of Temptation. They cost R89.95 per set.
There is nothing better to lift your spirits than a bold red lipstick or gloss, so if you don't have a go-to-one in your drawer, it's time you make your first purchase. This Catrice range is available at Clicks and Dischem, and is limited edition so make sure you get it before it sells out.