Whenever I hear people say they don't/haven't ever shopped online, I can't understand why you wouldn't want to, especially since there are so many amazing brands out there who have great e-commerce sites. Don't get me wrong, I love shopping in stores and browsing through items, touching different fabrics and swatching make-up, but there are times when I've enjoyed sitting on my couch with my laptop or browsing an online store on my iPad just as much.
Superbalist is an online store that I can spend ages browsing through. They have an impressive selection of brands which are trendy and match my style – making it incredibly hard not to go nuts on their site and add everything I fall in love with to my cart! A blogger posted online 2 weeks ago that the Nike Roshes were available on Superbalist and I knew instantly what I wanted to buy with the voucher they had given me.
I sat in bed with my laptop the next night to place my order and I have to say the entire shopping experience on Superbalist was a breeze (apart from having to talk myself out of ordering 3 pairs of sneakers)! As you can see below, when you select Sneaker, there are SO MANY options to choose from that it may take a while until you can narrow your options down to only one or maybe two pairs that you need (desperately want).
After selecting sneakers, you can then choose refine your search to only display brands you are interested in, which is handy if there is a brand you are a fan of, or a particular style you are looking for. While browsing through the sneakers you can also refine your search to only show certain colours or fabrics of sneakers – I knew I wanted black sneakers, but wasn't too picky about the fabric. If you are looking for more exciting sneakers than just plain black ones like mine, you can also search for ones that have patterns or prints. The size selection is in UK sizes, so if you aren't sure what UK size you are when viewing the shoes you like, scroll down and click on the tab that says "Size". There is a table that shows you UK, US and EU sizes, and if you are still unsure, they explain how to measure your foot length. A feature I really like is that while you're browsing products, the site will also suggest other products that you may like, based on your search history.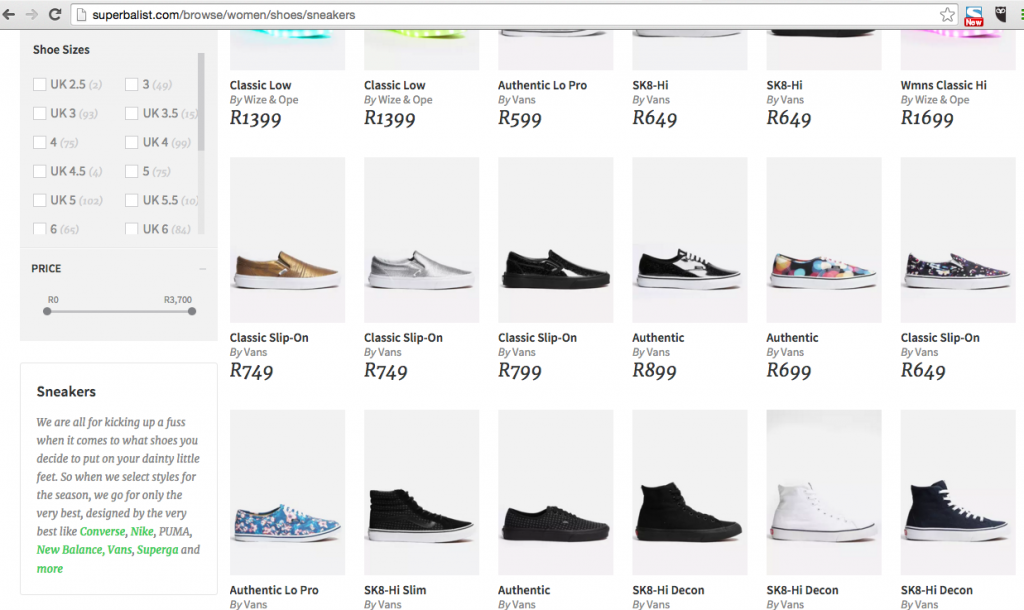 After viewing a number of sneakers, I decided it was time to pay for my order. Setting up an online profile for yourself is pretty easy and one of the advantages of shopping online is that you no longer have to wait at a till or customer service to apply for an account. Once your details are saved, you can pretty much begin shopping. Paying for your order is even more simple, especially since the site gives you so many payment options to choose from (so don't stress if you don't have a credit card). I usually use my credit card for orders but this time I wanted to try out SnapScan instead. The site is secure for online transactions (always look for the locked padlock on the address bar), and each payment option gives you easy-to-follow instructions. My payment went through as soon as I had scanned the SnapCode and selected the "Pay" and I received an email confirming my order. Delivery on all products is free, based on the product, option, and area. You can also choose a specific day for your delivery, and these options are all presented to you when you make your payment.
Tracking my order was super easy because Superbalist continually updated me on the progress via SMS and email. You can also go online to track your order via the site, and there is a customer care number. If you have any queries about ordering, stock, payment options, vouchers etc. there are FAQs on the site as well as contact details of people you can email with your particular query. Superbalist offers a free exchange or return in 30 days which is good to keep in mind.
I ordered my sneakers on Sunday night and they arrived on Tuesday morning! I was beyond excited when reception called me to let me know they had arrived! I've worn them a number of times since they were delivered and have had had so many people ask me where I got them. The Nike Roshes are extremely comfy and the black goes with just about anything in my wardrobe, including my favourite LBD.
If you have a birthday coming up and your not sure what to buy the person, why not get them a Superbalist voucher? I am definitely adding that to my birthday wish list this year! Superbalist has an app for Apple and Android, so if you don't have a laptop with you, you can shop on your phone.
Follow Superbalist on Instagram, Twitter, Facebook, Pinterest and Snapchat [superbalist]. Superbalist is more than just an online store, they also have some pretty cool content on their site.