After a super long, tiring, and stressful week, I was lucky enough to be treated to a gelish mani at Sherbet Angel Boutique Spa in Parkhurst one Friday afternoon. I really believe all Friday afternoons should begin with a pamper session!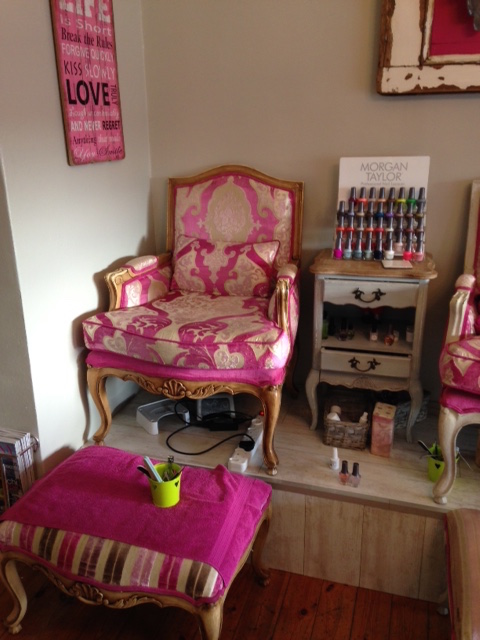 Upon walking into the spa, I felt right at home and got comfy in my seat – a fab pink wingback chair. I quickly completed an info sheet and was really impressed that the staff wanted to know what refreshments I liked and how I liked them. It's the little things like that that let you know you are going to receive amazing service going forward.
I was given the gelish colour selectors to go through and was amazed at just how many colours they had in stock – almost every colour on the wheels was marked as being in stock. Cue excitement at the prospect of having such a variety to choose from! From past experiences at other spas, I've always been disappointed by the fact that they generally tend to only stock the colours they know will be very popular (reds and pinks) and less of the adventurous colours that only a few ladies will want to try out. There were 3 pastels I wanted to try out – blue, pink and mint – and in the end I chose the fresh mint shade called Kiss me, I'm a prince.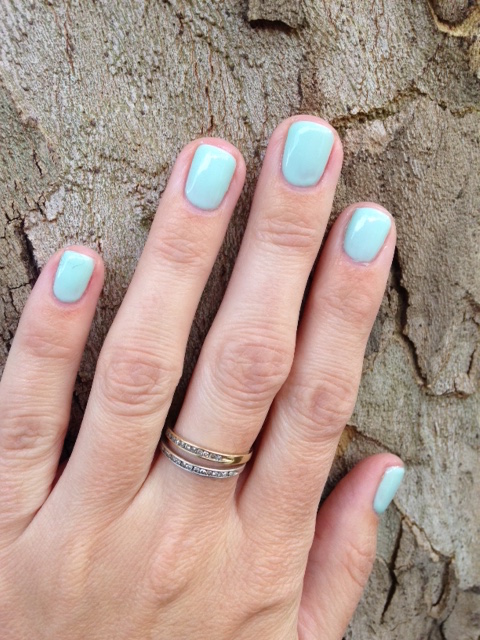 Sherbet Angel Boutique Spa is the most charming spa I have ever been too! From the decor, to the furniture, to the staff, you can't help but not love everything about this spa! After my mani I couldn't wait to walk around and take a peek into each of the treatment rooms. Sabrina who did my gelish and was only too happy to show me around afterwards and give me some more info about the spa. She was even up for a quick selfie while we were doing out tour 🙂 As a crafter, I appreciated each and every handcrafted decor item on display, especially the finishing touches on the refurbished furniture.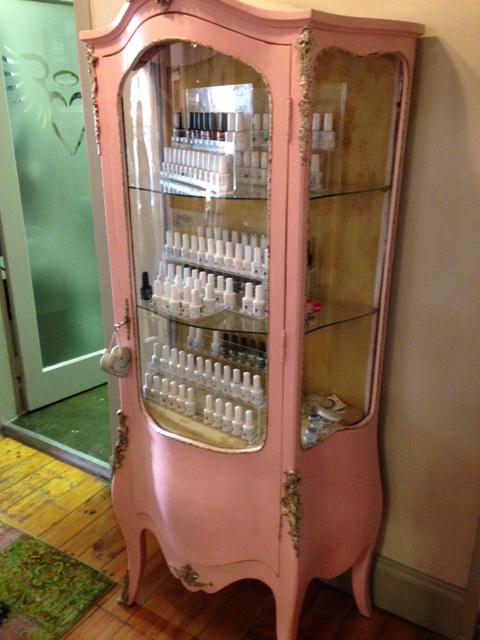 Not only do they have an excitingly large selection of gelish colours, they also have the largest selection of Toy nail polishes that I have ever seen. If you are a Morgan Taylor fan, they also have many pretty colours to choose from.
This enchanting spa opened its doors on 1 September 2011, and offers a variety of services, including facials, massages, grooming, nails, and even specialised services for teens and preggie mommies-to-be.
If you feel like having a long-overdue pamper session I highly recommend you book yourself a treatment at Sherbet Angel Boutique Spa.
They are open on:
Mondays from 10:00 to 15:00
Tuesdays to Fridays from 9:00 to 18:00
Saturdays from 9:00 to 17:00
Sundays from 10:00 to 14:00 (by appointment only)
You can visit their website for more info and follow them on Facebook, Twitter, and Instagram.
Thank you Sherbet Angel for my gelish mani. I felt like a new person after I'd had my nails done that Friday afternoon – instant pick-me-up pamper session – and they still look fab over a week later! x