Growing up, the concept of a break or holiday has always involved me leaving the city / town I live in and travelling to another destination for a week or two in order to feel like I have escaped everything in order to clutch out. Recently I discovered that you don't have to even leave Joburg in order to have a mini holiday and unwind.
The Indaba Hotel together with Hello Joburg were kind enough to invite me to stay at the Hotel for a night to experience a Staycation. I checked in at the hotel on the Friday afternoon, after a very busy week at the office, and couldn't wait to kick my sandals off and lie in bed and watch some TV. (This is honestly one of my highlights whenever I am on holiday.)
It was super hot that day and as I opened the room the cool air of the aircon was the best welcome I could have asked for. I was also greeted by the cutest elephant that was sitting on my bed and waiting for me! I had a few hours before I had to be ready for dinner, so I poured a glass of wine, switched a movie on and painted my nails.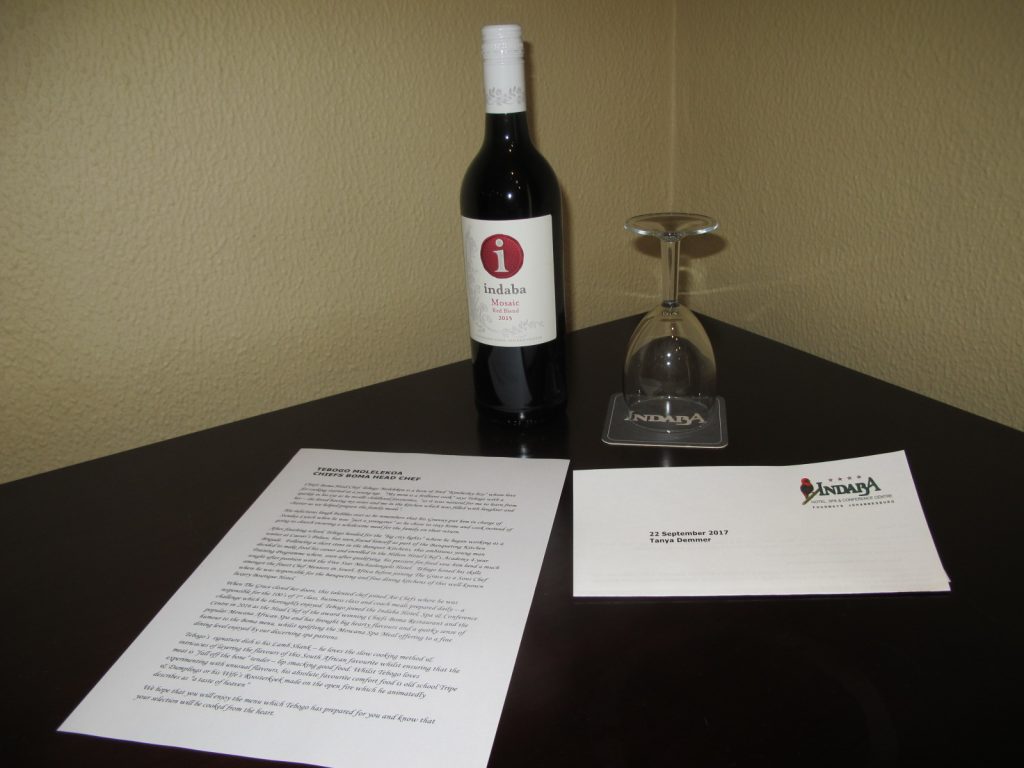 Dinner was at the Chief's Boma that night, and upon arrival I was greeted by some amazingly friendly staff, who assisted me in washing my hands at the entrance before heading to meet the other guests at our dinner table. We were told to come hungry and I had made sure I didn't spoil my appetite before dinner. The Chief's Boma is an African Style Buffet Restaurant, and before sitting down, I took a quick walk around to look at the buffet which had me in awe because all of the food looked incredibly appetizing. The Boma seats 300 people, offers over 120 dishes, and also boasts a "Shisa Nyama" grill where the chefs prepare your cut of meat which ash been carefully selected by the on-premises butcher. The Boma also offers a variety of game meats including Springbok, Impala, Ostrich and the Boma's signature "Big 5 Kebab". To add to the ambience of the restaurant, there is a resident Marimba band, and the background music really made me feel like I was far away from Joburg and at some exotic destination.
I tried out a number of different foods that night and was really impressed. The only thing I didn't try was the Shisa Nyama as I'd indulged in too many other foods, but I will definitely try that next time as a few of the guests raved about their food. I had an amazing dinner with the other guests and when I went to bed that night, I couldn't wait for the next morning and everything we had on the agenda. There were a number of guests at the Boma that night having dinner, some foreign and others local, and I had no idea that the Boma had so many guests regularly for dinners.
I checked out at 08:00 and headed to the Mowana Spa for breakfast. I was handed a key to my locker, which had my name on it, and changed into the robe that had been put aside for me. Off I went in my robe and slippers to breakfast, which again offered a wonderful variety of foods to choose from. We each filled in a treatment card for the therapists, and indicated the intensity of the massages we would prefer. We then were called to our first treatment of the day which was a foot and leg treatment. I had no idea what to expect and loved the fact that the treatments were all done outside in nature. We were assigned a therapist who would look after us, handed our treatment cards to the ladies and were seated in chairs and made comfortable. Tshidi looked after me and I almost dozed off while she was exfoliating and massaging my legs. What a pleasure!
After that treatment, we went back to the dining area and were able to dish up some more eats as part of the high tea selection on offer. We were then called to our second treatment which was a head and shoulders massage and I couldn't wait for that because I'd had a bad tension headache recently. Tshidi showed me to my seat and got me settled, and asked if she could put oils in my hair for the massage, which I didn't mind at all. When she massaged my neck and shoulders I was in absolute heaven and felt completely relaxed while looking out to the bushveld garden ahead of me.
The last treatment we were booked for was a full body massage. I haven't had one of those in years and couldn't wait to experience it. I chose hot stones for the treatment and once I was settled on the bed, which was on an open deck, Tshidi began with the massage. While lying on the bed during the massage, I was probably the most relaxed that I have ever been this year, especially since I have a highly stressful job and carry all my stress in my shoulders back. Tshidi checked in with me regularly to see if I was okay and worked her magic. I was honestly so sad when the massage was over and it was time to go back and get changed and ready to leave.
The entire experience at the Indaba Hotel and Mowana Spa honestly left me feeling like I was at another destination, and not just 7 km from my house. I got home on Saturday afternoon feeling completely destressed, and even slept until the next day because the three massages had released all the nasty toxins in my body. I was honestly impressed with the staff and service I received at the hotel and spa, the room was quaint and perfect for my needs, and the food was scrumptious! If you are looking for a restaurant for a family dinner, or dinner for two, I would highly recommend the Chief's Boma. If you are looking for a spa that you and your friends can book at for a day out on the weekend, or even during the week, I would also highly recommend the Mowana Spa as it's outdoors and you don't have to travel far to get there or spend a fortune to be pampered.
I enjoyed every minute of my Staycation, and would like to thank Indaba Hotel and Hello Joburg for giving me this opportunity. It was exactly what I needed and I loved my Staycation experience! It just shows you that there are some gems in Joburg that are really worth exploring.