I recently was treated to an G.Hair B-Tox Treatment by Inoar at the Sorbet Drybar in Dunkeld. I've used the Inoar Argan Oil, but had never heard of the botox-like treatment before so I was keen to try something new and review it.
B-TOX G.Hair prolongs the effect of your hair realignment, contributing to frizz reduction while making the hair softer. Developed with fatty acids and grape extract, rich in vitamins E, C and beta carotene, it moistures and recomposes the hair fiber, offering hair realignment from the first use, contributing to healthy hair growth and its strengthening. B-TOX G.Hair ensures smoother and healthier shiny hair –Inoar.
The Sorbet Drybar in Dunkeld has a pretty good reputation for the best blowouts in Jozi, via word of mouth, and I was finally able to put that to the test while I was there too since the treatment comes as part of a package with a blowout.
The staff at Sorbet Drybar in Dunkeld are incredibly friendly and what blew me away is that they know most of the customers by name, as well as their regular treatments and blowouts they prefer – it felt a bit like a family when I was there. (The cappuccinos were also fabulous!)
As part of the treatment, these were the steps that were followed: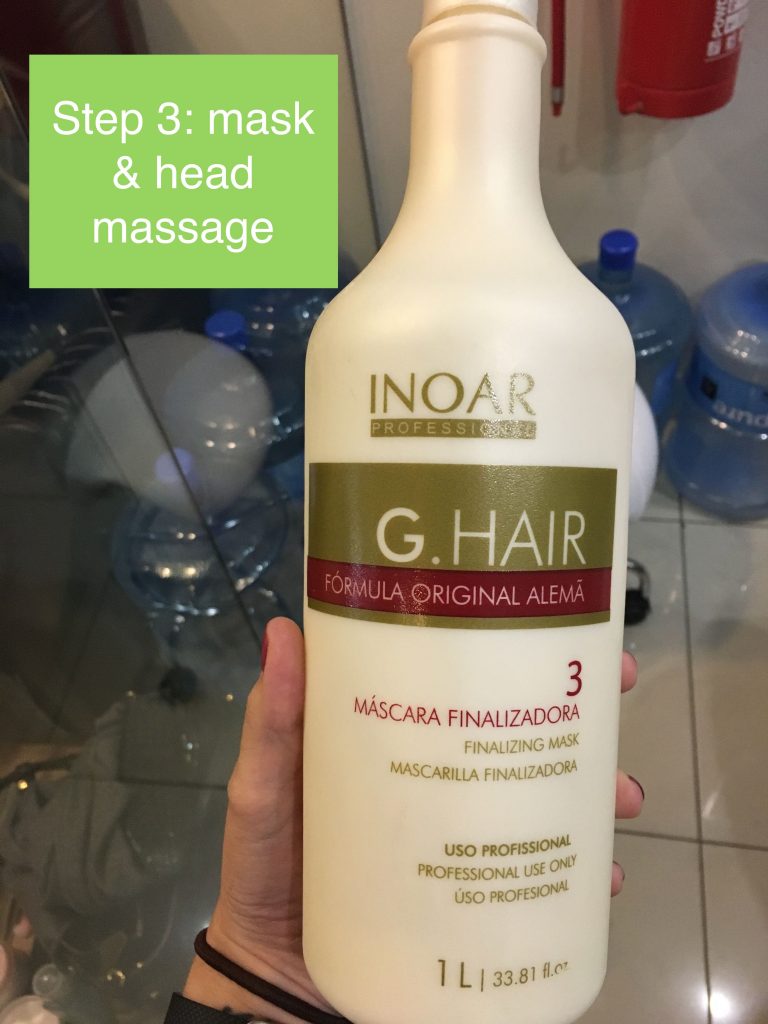 Step 1 involved washing my hair with the Inoar Shampoo Detox.
Step 2 involved applying the G.Hair B-Tox Treatment to my hair and wrapping me up in clingwrap for 30 minutes. During this time I got to enjoy my first cappuccino.
Once the 30 minutes were up, my hair was rinsed, the G.Hair Finalising Mask was applied and I was treated to the most fabulous head and neck massage for what felt like an eternity. (Sitting here and writing this, I could totally do with one again right now.) The mask was left on for a few minutes and then rinsed out.
After the treatment, I got to enjoy a second cappuccino and meet Precious who I was booked with for a blowout. Now that my hair is getting longer, I asked her for a style with curls and she did a fantastic job of doing a blowout for me. Once the blowout was done, I could immediately see the difference in my hair – it was shinier and much softer. With all these curls in my hair, I felt a bit like a princess!
The G.Hair B-Tox Treatment is formulated for damaged hair and contains:
wheatgerm oil
argan oil
shea butter
grape vine extract
keratin
glyoxylic acid
This treatment claims to:
Restore & hydrate
Promote hair growth
Strengthen hair
Volume reduction
Frizz reduction
"Plump-up" the hair
Leave hair more manageable hair
Reduce knots and easily detangle hair
Adds Shine
Please note: This treatment is not recommended for anyone who is pregnant.
The first few times I washed my hair it felt like straw, but once it dried it was soft and shiny again. I have noticed a decrease in the frizziness of my hair, and have been able to rough dry it slightly, and leave it to dry naturally for the remainder of the day without ending up looking like a frizzball later on. I am actively trying to let my hair dry more naturally and use less heat styling so I have been pretty chuffed with these results.
Sorbet Drybar Dunkeld charges the following for the treatment:
Short Hair – R690.00
Medium Hair – R 790.00
Long Hair – R890.00
This treatment is exclusive to INOAR Stockist Hair Salons and Sorbet Drybars. http://www.inoar.co.za – Email: info@inoar.co.za or Phone: 012 346 1721.
Thank you Inoar and Sorbet Dunkeld Drybar for this treatment. I am very happy with the results.
x