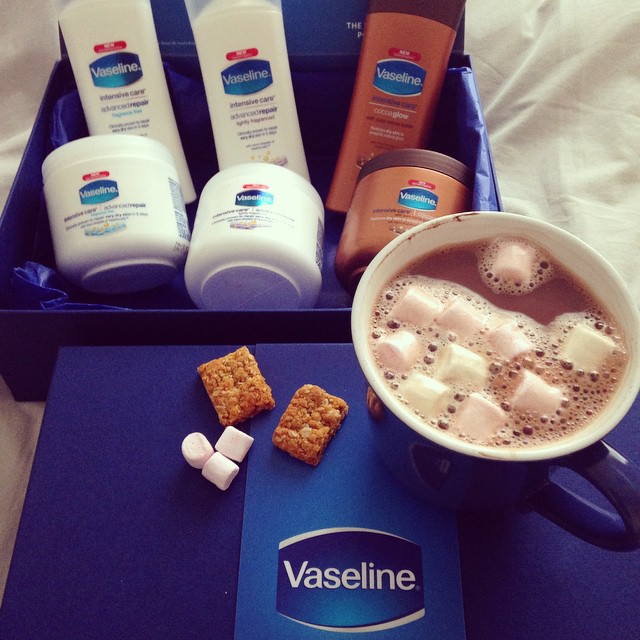 A few weeks ago I received this fabulous package from Vaseline, to help me get through winter. It was a tough decision as to which product to try out first, and I was instantly drawn to the Intensive Care Coco Cocoa Glow range, but in the end I opted to try the lightly fragranced Intensive Care Advanced Repair lotion and cream. After all, this particular range claims to be able to repair very dry skin in just 5 days!
The Intensive Care Advance Repair range has two options for you to choose from: either a lightly fragranced cream and lotion, or a fragrance free cream and lotion.The first thing I noticed when using the lightly fragranced range, is its amazingly fresh scent. I love it! If you don't mind using a product with a fresh fragrance, then I'd suggest you choose the lightly fragranced cream or lotion, because the scent isn't overpowering at all. If you prefer your products not to have a scent at all, rather opt for the fragrance free cream or lotion.
The next thing I noticed about this range, was the texture of the cream and how it feels when I rub it into my skin. It absorbs quite quickly and does not leave me feeling sticky or oily at all – which was surprising because it's a rich cream for very dry skin. The cream has a slightly thicker texture than the lotion, which is more fluid.
The cream makes my skin tingle slightly after application, and I think it may be from the menthol that I can smell in it. My skin is dry and sensitive and this cream hasn't irritated it at all, instead it has left it feeling extra hydrated and nourished over the last few weeks. This is all thanks to the micro-droplets of Vaseline BLUESEAL Petroleum Jelly – infused in the cream – that absorb quickly into each layer of your skin, restoring from deep down. The Advanced Repair range is clinically proven to keep skin repaired for 3 weeks, and I have definitely experienced those results.
I am completely obsessed with this particular Vaseline range at the moment (#TheStruggleIsReal), and can't get enough of this cream because it leaves my skin feeling extra loved!
You can find these particular Vaseline creams and lotions at all major retailers, and they cost:
200 ml Lotion R24.99
400 ml Lotion R41.99
350 ml Cream R34.99
500 ml Cream R44.99
Thank you Vaseline for sending me this amazing box of goodies to try out. I really love how these creams make my skin feel!