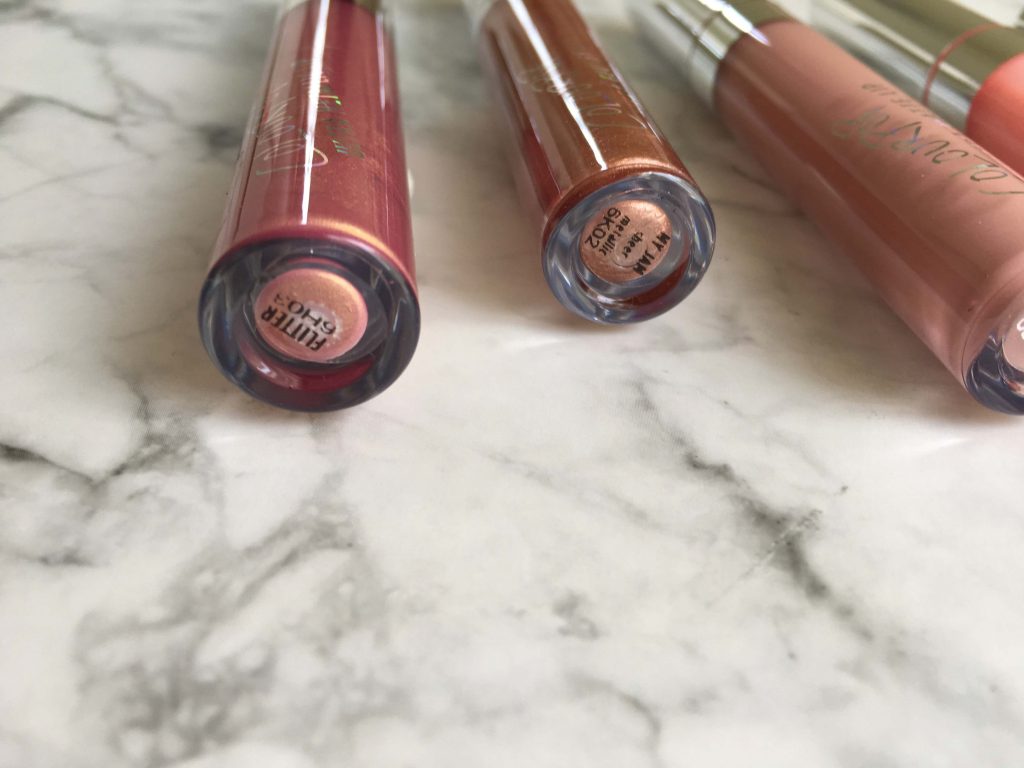 I first discovered ColourPop on social media and started following them on SnapChat to find out more. There aren't many make-up brands (in my opinion) that get it right on SnapChat and I honestly love how ColourPop (@ColourPopCo) really gives you a behind-the-scenes view of how the products are developed and packaged. Jordynn and Sharon run the account and together they do such a good job of announcing launches and relaunches, swatching products on different skin tones, showing looks that you can create with the products, answering fans questions etc. on their Snapchat account. If you don't have SnapChat you can watch them on YouTube.
The first time I got my hands on ColourPop products was last year when Ilona treated me to two lipglosses and an eyeshadow as a gift. She was so amazingly kind to do that! (That was where my addiction started!) I got a Super Shock Shadow in Nillionaire which is a metallic bronze shadow with a pink-gold shimmer, an Ultra Glossy Lip in Bestie which is a mid-tone pink and another Ultra Glossy Lip in Finders Keepers which is a mid-tone mauve.
I fell in love with all three of these products and after watching countless Snaps, the closer it got to Black Friday last year I knew I needed to get my hands on some more products. At 06:00 on the morning of Black Friday I excitedly sat in front of my laptop and placed my order for some new products to try out. (It helps to create a Pinterest board with the products you like before you shop, otherwise you'll be tempted to add kazillions to your shopping cart. The colours  in real life also differ slightly from the online pics so I would advise you to look at swatches online if you are very particular about the colours of make-up you wear.) You can ship your products directly to SA from the ColourPop site or you can use Aramex Global Shopper. I opted to use Aramex Global and opened an account for myself that morning before placing my order on the ColourPop site. I didn't have to pay that much to customs to release my order and the prices I paid online for the products are a lot cheaper than the prices I have seen people selling the products for in South Africa.
Two weeks after completing my order the products arrived and I was ecstatic to go home and try them. I got a combination of Ultra Metallic, Ultra Glossy, Ultra Satin Lips products as well as some Super Shock Shadows. I have been super happy with all of the products I received and have often had people ask me what eyeshadow I am wearing when I wear the SuperShock products.
The lipglosses I ordered (which cost about $6) all have different textures and finishes as you can see in the swatches I did. I just choose them on what I'm in the mood to wear for the day when applying my make-up. If you aren't sure which to order, here is a quick summary  of the finishes:
Ultra Metallic: These are liquid lipsticks that have glitter in them. Flitter is a colour I have seen countless times on social media and I had to get my hands on it. I love the colour but one thing I have to get used to is that it feels a little chalky on my lips when I apply it. The colours stay on for a number of hours, but do need to be touched up.
Ultra Glossy: These are very glossy and creamy and don't dry out your lips. They need to be touched up during the day.
Ultra Satin: These are liquid lipsticks that don't dry completely, so they won't leave your lips feeling tight or dried out. I have to apply these once during the day.
Ultra Matte: These dry down completely after application and the matte finish lasts for pretty much the entire day, with only one touch up needed depending on how quickly the product rubs off from eating and drinking (which in my experience it doesn't really).
The Super Shock Shadows (which cost about $5) are exactly the right amount of pigment and shimmer that I look for in an eyeshadow. I wear a lot of neutral tones and so I chose these three colours. I have worn them on their own and have layered them on top of a matte nude eyeshadow for a more impactful result. The Super Shock Shadows have a cool, creamy feel to them when you swatch them and when you apply them and they are fairly long-wearing during the day.
Catnap: This is a limited edition shadow which is an icy rose gold with pink and silver glitter in it. All proceeds from the sale of "Cat Nap" will be donated to Best Friends Animal Society(R) and their NKLA effort to Save Them All®
Weenie: This is a metallic rose gold. The finish is slightly different to Catnap's.
Amaze: This is a metallic peachy gold and out of the three I have worn this the most.
All of these products have impressed me so much that I recently completed another order for more Super Shock Shadows, some glosses and a Lippie Stix which I haven't tried before. ColourPop often has promotions on new colabs, end of range products, as well as new launches so it's worth signing up to their newsletter to keep an eye on those deals. They don't have a store so you can only order the products online. They also have an offer that delivery is free when you spend over $30 in the US and $50 for international orders.
If you want to find out more about the brand, do yourself a favour and follow them on social media. They are pretty good at sharing looks created by their fans with their products too. You can find them on Instagram, Twitter, SnapChat, YouTube and you can shop on their website.