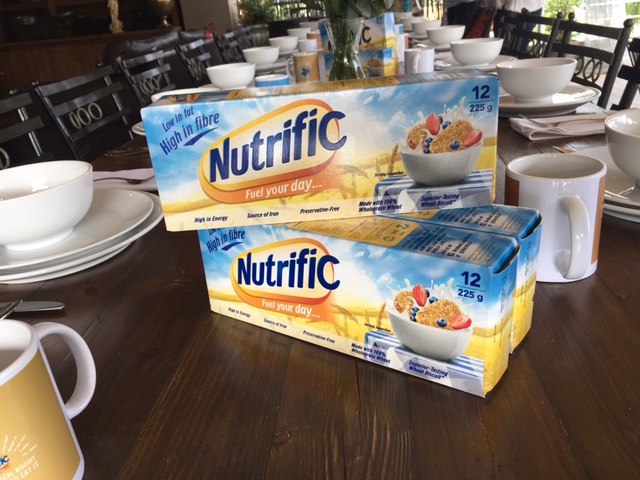 I literally can't function in the morning if I've not had breakfast! It's like the "on" switch for my body because when I wake up just after 05:00, my stomach is already grumbling for some food. It amazes me when people tell me they don't eat breakfast because it's the same thing every day which is boring or it's too early to think about food when they get up. I have to admit that I do like to change my breakfast up every now and then because I do get tired of the same dish every day for a month, but that doesn't stop me from trying another dish and wolfing it down so that I am ready to start the day.
Nutrific invited me to spend the morning with them and other influencers as part of the #1000ways breakfast challenge where we took part as teams and had to create innovative dishes with Nutrific biscuits. (How many of you have ever thought about creating a completely new dish with a Nutrific wheat biscuit? I thought this campaign was genius!) For those of you looking for a healthy alternative for breakfast, Nutrific biscuits are high in fibre and protein and low in sugar and fats.
The morning kicked off with Chef Matt introducing himself and demonstrating a lamb dish that he prepared with Nutrific. There was a lot of excitement from everyone as we watched him prepare a dish that none of us would have considered. The smell of the dish was also so divine that my stomach was certainly growling for food by the time we were able to choose ingredients from the pantry for our dishes.
I chose to take my mom with me as my team member (who better to choose than the person whose cooking you love!) for the challenge and before the event we considered numerous savoury and sweet dishes that we could make with Nutrific. In the end we decided on making a savoury tart as our dish, and prayed that when we were able to choose ingredients from the kitchen that there would be some that we could use for our dish. As you can see below, lots of thought went into each ingredient that would be used to create an award-winning dish for the competition.
We grabbed our ingredients and went to our workstation where we had 45 minutes in which to cook / prep our new meals. Creating our meal didn't take that long, but cooking it took far longer than we had budgeted for, and were allowed as part of the competition.
We called our dish the "Good Old Savoury" and we made it with the following ingredients:
4 x Nutrific biscuits
1 cup milk
2 Tbsp butter
1½ cups grated cheese
1 Tbsp chopped onion
4 x chopped black mushrooms
2 rashers bacon
Chopped green pepper
Sprinkling of butternut spaghetti
3 eggs
Chilli flakes (you can substitute this with cayenne pepper)
Salt (we forgot this, but it definitely needs a pinch of this)
Heat the flaked Nutrific biscuit, milk and butter until soft. Remove from heat.
Add all the remaining ingredients (finely chopped) and lastly well beaten eggs.
Place in a baking tray and bake at 350° for 45 mins.
Once cooked, we were allowed to plate our meals and decorate the plates, and then take tem to be photographed and judged. We had to present them to the two judges (Dale from Nutrific and Chef Matt) with a rationale behind why we made the dish that we had, and what the name of the dish was. The feedback we got wasn't too bad, but next time we will definitely add some more salt and let it cook a little longer. The team that won really went all out and had a fantastic meal! You can view the photos from the event
All in all the experience was great and we loved being creative with Nutrific, as well as watching everyone else create their own meals. Savoury tart is a firm favourite in our family and the Nutrific biscuits gave it a new twist.
As part of the #1000ways campaign, Nutrific created a site (http://www.somanyways.co.za/) with 1000 ways to eat Nutrific. There really are 1000 dishes on the site and if you click on them they show you how to prep them. If there is a particular ingredient you like, you can type it into the search bar at the top of the site and it will show you recipes that include it.
After taking part in this challenge, I would love to hear what type of breakfast dish you would have created if you were invited to take part, so leave your comments below.
Thank you Nutrific for an awesome challenge! My mom and I loved every minute!