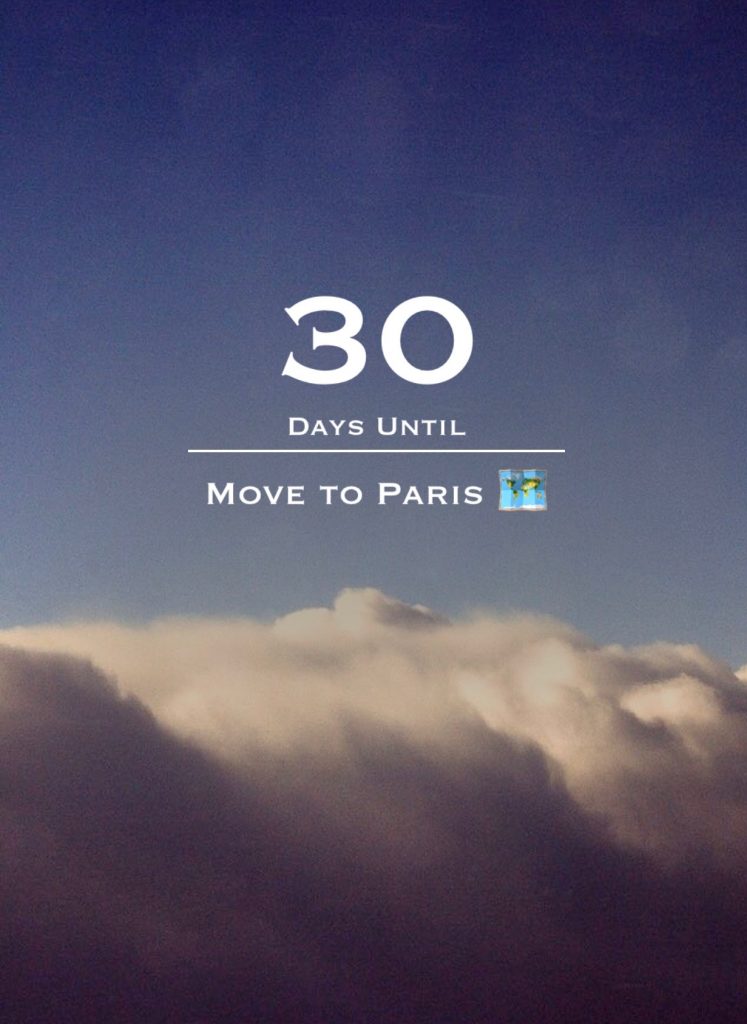 A couple of months ago when I was offered the opportunity to apply to join a project in Paris and I remember how excited I was! I applied and waited patiently for a few weeks (which felt like years) and I finally got the email to say I had been accepted into the bootcamp. That was in April and the thought of starting my training in Paris seemed so far away.
Today my countdown timer finally hit the 30 day mark and I can't believe that this time in a month I will be sitting on a plane and heading to Paris.
I'm super excited for this new adventure, but am also super anxious about many things. Leaving Jack behind is definitely the one thing that has caused most of my anxiety. He is my baby and I can't imagine coming home to an empty flat without him. His foster mommy can't wait to live with him while I am away, and I know she will take amazing care of him, so that has helped with my anxiety.
As much as I can't wait to go, there has been a list of things I've slowly been working through to help get everything sorted while I am out of the country for 4 months. This list has honestly been overwhelming and I have had many nights where I've literally dreamt about things I need to do for my personal stuff before I go, and things I need to remember for the office. My visas were a huge stressor and I am so relieved that both have been granted and that is done. My plane tickets are also sorted and so is my accommodation. Now comes the rest of the list which includes letting my insurance know, freezing my gym account, letting my landlord know, letting the bank know … it's long and I won't bore you with the rest of it.
Once good thing that has come out of this trip is that I have started decluttering my place. I am a bit of a hoarder and keep things because they make me feel safe and in my comfort zone. I've gotten rid of books I've collected for over 15 years, CDs, DVDs, clothes I don't wear or even forgot I had, crockery that is at the back of the cupboard and isn't ever used. Cleaning out has been really cathartic and left me feeling a lot lighter. I definitely need to be more of a minimalist going forward. I haven't even missed the things I parted with.
What am I most excited about for my new adventure?
Walking to work every day and no longer sitting in traffic on William Nicol – I know this may sound odd, but honestly walking to work really excites me!
Exploring – I've never been to Europe or Paris, so I've watched a number of vlogs and can't wait to see what everyone talks about. I have also followed accounts on Instagram that have shared the most beautiful photos that people have taken of Paris. I want to see all the main tourist spots, but I also want to explore and find the hidden gems.
Learning a new language – I've been taking French lessons for a few weeks now and have really enjoyed it. After the first class I was super overwhelmed because it's a complicated language and I struggle with the pronunciation of some of the letters, but it's got easier and my teacher has been amazing! I wish we had had one more month to practice, but she is leaving for French summer holidays this weekend and will be in Paris until I leave to head that side. So now that I have the basics, I plan on practising and learning more when I'm living there.
New food – My French teacher has taught me about the foods that you can and can't get there and I'm fascinated by how different things are there. I can't wait to experience it first-hand, buy my groceries at a small store and one thing I have to do is taste the one pastry she has told me is her absolute favourite. The pastry is called a Mille-feuille and is commonly known here as a custard slice.
Vlogging – I have never done this and think this is the ideal time to try and start. Hey Claire always does the most amazing videos and I want to share my journey with anyone who would be interested. I generally shy away from cameras, so the thought of filming myself is a little daunting, but I want to document my experience and have fun doing it.
Fast internet – I don't even need to explain the excitement of high-speed bandwidth.
Learning – I am joining a new team for a few months and will be attending a number of classes which are booked in my diary already. Digital has always excited me and the opportunity to visit Silicon Valley and meet the giants like Facebook and Google makes me smile so much and feel giddy!
A new routine – I start work just after 07:00, so the thought of only starting at 09:00 is super odd, but exciting too. The office has a gym inside so I no longer have any excuses not to workout. Focussing on my health and wellbeing is so important to me now and this new routine couldn't have come at a better time.
Christmas festivities overseas – I have never been in Europe or the States for Christmas so I'm beyond excited to see the decor, hear the music and experience the Christmas spirit on that side of the world. It will be super chilly (and I'm not a fan of winter as is), but I've been told it's magical.
Paris, San Francisco, New York – I don't even have to explain how excited I am to see each of these places! They are each so dynamic and diverse.
So, there are also some things I am nervous about and not necessarily looking forward too:
Being far away – from my family and friends who are my support system. I am a Cancerian who is a homebody and doesn't like change. I like things to stay the same and I don't like leaving my comfort zone. So this will be tough, but thankfully there is social media and the likes of Whatsapp, FaceTime etc. to stay in contact with everyone.
Jack – I can't imagine not having him around and not cuddling him and chatting to him like a madwoman.
My flat – I love my space and will miss my bed, couch, and garden. This is my happy space and the best place to be after a rough day or after travelling for a few days when you want to come home and shower and collapse into bed and snooze.
A South African spring / summer – Even though I sneeze like mad when the flowers and blossoms start blooming in spring, it's totally worth it! Two of my favourite scents are Jasmine flowers and Yesterday, Today, and Tomorrow flowers. Oh, and Frangipani flowers! Last year I planted two different Jasmine bushes in my garden and they have really settled in well. This year I'll most likely leave before they start blooming and it makes me so sad! I absolutely love sitting outside on the patio on a summer afternoon when it's nice and warm outside, closing my eyes and inhaling the smell of the flowers in my garden. It's one of the things that makes me incredibly happy and relaxed. I am my happiest in summer and enjoy lying at the pool, tanning and swimming all day. In January when I arrive back in SA I am hitting the pool as soon as I get home.
Leaving work here for 4 months – I am a complete control freak. This is beyond hard for me!
And as much as I am excited and anxious, I know as soon as I arrive that side the time will fly by and it will be over before I know it. So I plan on enjoying every minute, appreciating this amazing opportunity that I have been given, and giving it everything I have.